Physio Matters' client John is delighted with his new Batec handbike which has given him more freedom and opened up many new adventures for him and his family.
"For years I've had to sit on the sidelines in my wheelchair and could only watch my family rather than join in," explained John. "For example, on the beach I could never get on to the sand to play with my children, or on country walks I was always at the back, trying to catch up because my normal wheelchair struggled with uneven paths. There were lots more places I just couldn't get to. It was very frustrating."
Former professional rugby player John had a spinal cord injury when he was 18 years old. He broke his neck during a tackle while playing his first game for Oldham Rugby League Club in 1995, which left him in a wheelchair and unable to walk. However, once John trialled a Batec handbike which he can attach to his wheelchair, his options to get out and about greatly improved.
Initial handbike trial
John was supported by his physio Colin Green, Clinical Director at Physio Matters and Elaine O'Flaherty, Specialist Neurological Physiotherapist, who helped with selecting the handbike and the initial trial.
John and Colin put the handbike to the test at local beauty spot Dovestones in Saddleworth which has some very steep paths up to the moors. Using the handbike attached to his wheelchair, John was able to get up the paths for the first time in over 20 years. He was so impressed, he went ahead and bought the handbike.

Game changer
"It has made a big difference," says John. "I can be much more adventurous. My little boy Jordan aged 6 has just started rugby training at Waterhead Rugby Club and now I can get on the pitch with him. I've even started helping coach the team, which I couldn't have done before."
John also says the handbike is easy to use: "The beauty of it is that I can fit it to my wheelchair myself. It only takes a few seconds to hook it on and then I'm away. It is a bit heavy getting it into the boot of the car, but Batec do make lighter ones. I prefer mine though because it goes over trickier terrain. I'm definitely keeping it and would recommend anyone in a wheelchair to try them out, with your physio's help."
John added: "It's been a complete game changer for me and has opened up so many different avenues. I can't wait to see where I can go next with it."
Watch videos
Watch these two very short 30-second videos which show John initially trialling the handbike. In the first, he is on a very uneven country trail, which would have been much more difficult in his wheelchair only. Despite a few bumps, John quickly gets the hang of navigating down the trail.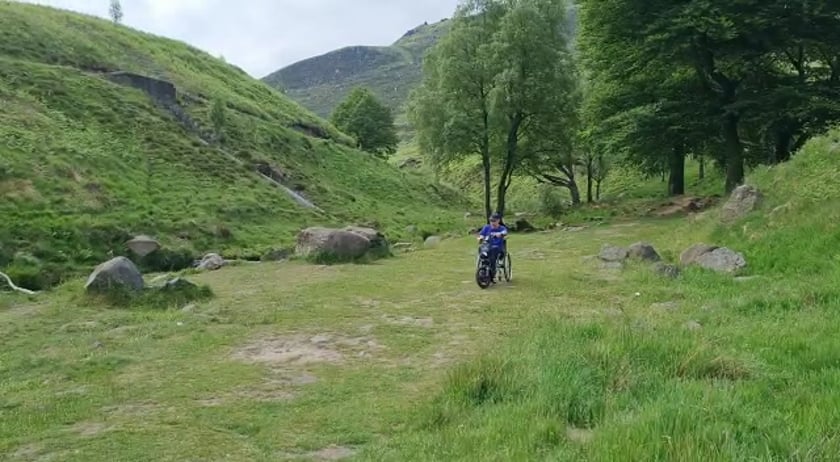 In the second video, John is using the handbike to carefully take him down a very steep concrete path. Again, this would be very tricky in just a wheelchair. Bear in mind that John had been able to get up that steep path in the first place, using the handbike!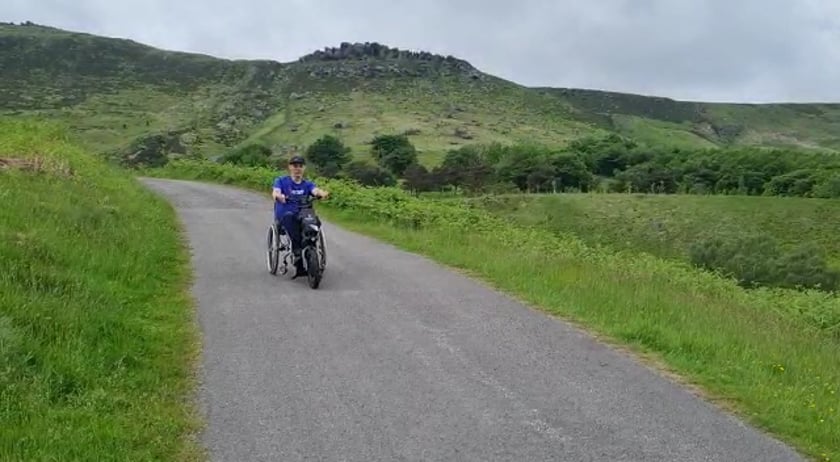 To find out more about handbikes for wheelchairs or other adaptations to improve your quality of life, contact Physio Matters on office@physio-matters.org